Saturday 15th June 2019
Sidings Orchard - Heaton Mersey Nature Reserve - Stockport
---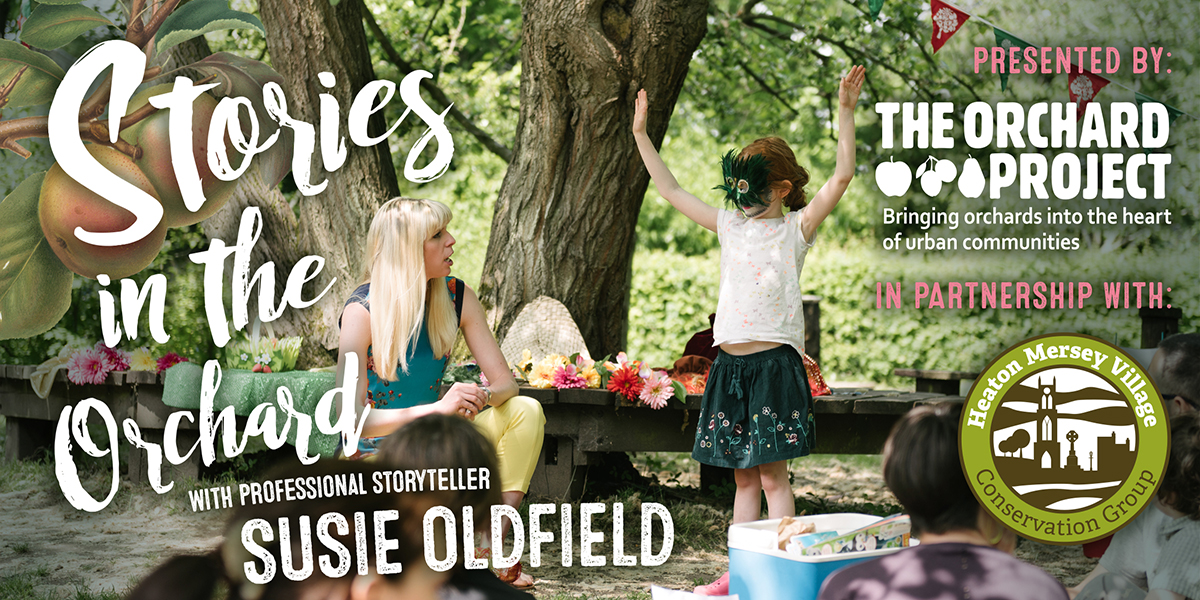 Come down to the The Sidings Orchard, just off Craig Road, in The Heaton Mersey Nature Park for an afternoon picnic and storytelling with Susie Oldfield, The Orchard Project team and the Heaton Mersey Village Conservation Group (HMVCG).
Since 2015 The Orchard Project have been working with the HMVCG volunteers along with our friends at Cheshire Wildlife Trust to bring this fantastic community space back into fruition (pardon the pun) and into not just a productive community orchard but a local space to cherish, treasure and populate with bespoke one-off events.
On Saturday 15th June, from 12:30 – 3pm you'll find picnic blankets aplenty and our amazing storyteller, Susie Oldfield, ready to tell you fruity tales, stories, myths and legends. Choose the lunchtime slot that suits you and your family best and we'll do the entertaining. Then, why not explore the incredible greenspace that surrounds the site?
Book in to one of three storytelling slots, bring your own picnic lunch and we'll entertain you and your little'uns.
We'll have a face painter on hand who will be taking donations for which 10% of takings will go towards the HMVCG, so bring some spends.
PLEASE NOTE:
This event is taking place in a nature reserve and therefore there is no public convenience available, so we're sorry for inconvenience caused. Best to make sure small kids "go" before attending.
SAT NAV/PARKING
For Sat Nav use SK4 4BR (Ravenswood Road). The best entrance into the Mersey Vale Nature Park and the community orchard is opposite the entrance into Ravenswood Road. We'll put an a-board up so you'll know where to go. Please park considerately for the neighbours on Craig Road.
OUR WET WEATHER PLAN
A bit of light rain wont stop us. We'll place enough picnic mats under our 3 x 6 metre gazebo, so plenty of space for all your kids but adults may want to bring a brolly! Do watch out for last minute changes landing in your inbox prior to the event.
FOR TICKETS: CLICK HERE